Using Signature Colors in Branding
When it comes to using signature colors in your marketing and advertising, you may like to think that people will just pick any color they like and call it a day. However, there is actually extensive research and planning that goes into choosing your signature colors. A company and its subsequent logo can send out a message solely based on which ones they choose to use.
Depending on the color palette used, people may feel compelled to pursue the company and its claims. On the other hand, it could offer the exact opposite effect and bring people feelings of uneasiness.
For example, let's say a furniture company is selling expensive, high-quality furniture. Unfortunately, it will likely not give off this vibe to potential clients with a neon green, flashy logo. To emphasize its sleekness and taste, they are more likely to do well with a more neutral palette. In addition, perhaps including a lighter green throughout the branding as an accent color would help.
Colors have an incredible influence on how we perceive a brand. In a blog post, Platt College in San Diego, California describes the psychology of color and graphic design:
"Color psychology is the study of how colors determine human emotions and behaviors. We react to colors based on a complex series of interactions between our personal tastes, our family upbringing, and our cultural background."
To put it simply, choosing your color branding is no easy task and will take a part in determining how your prospective audience perceives you.
Let's examine a few brands which fully embrace the usage of their signature colors. Moreover, we will see how they apply these colors to their branding techniques. Two of the following examples have their colors trademarked. This is mainly to protect themselves from direct competitors in the same market. In addition, it can also be effective when their business model relies on a particular color to stand out. Color trademarks are only valid within the same industry. For example, an electronics company cannot sue a grocery store line for using the same color.

Coca-Cola
Coca-Cola may have one of the most iconic brand colors of all time. Funny enough, it is not trademarked or registered in color catalogs or by Pantone. This is because the well-known red hue is actually a mix of three different shades of red.
Why does Coca-Cola use red? A blog post by Coca-Cola titled "Coca-Cola Red: Our Second Secret Formula" details just how the company's brand identity came to be:
"Coca-Cola inventor Dr. John Pemberton's bookkeeper and partner, Frank Robinson, initially suggested the name Coca-Cola and crafted the iconic Spenserian-script logo. Robinson liked the contrast of red and white and would write 'Coca-Cola Delicious and Refreshing' with red lettering over a white background on the company's earliest signage."
The company has trademarked the custom Spenserian font and the usage of white lettering on a red background. Because of this, don't try to use these if you create your own line of soda.
All of these elements illustrate the importance of brand unity across all products in your company. Coca-Cola considers itself united "under a single look-and-feel and creative campaign."
What are some advantages of using red with your brand? For starters, red is a great color to instantly grab someone's attention and elicit a response from your audience. Furthermore, the color red influences action, energy, passion and confidence, just to name a few traits. If you are looking to be a leader in your industry and/or want to dominate store shelves, red may just be the color for you.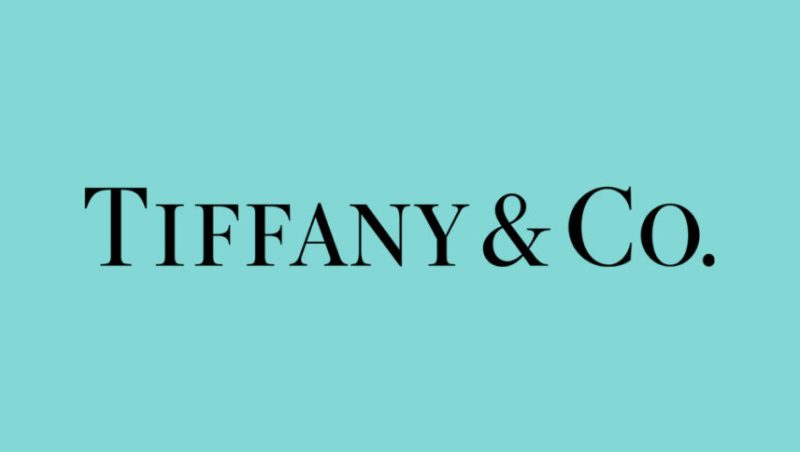 Tiffany & Co
When you think of the Tiffany & Co. brand, one of the aspects you will instantly think of is its beautiful robin's egg blue. As a luxury jewelry and specialty retailer headquartered in New York City, it has made a name for itself by having such a distinguishable and recognizable brand.
This blue color that Tiffany & Co is well known for is trademarked, with its Pantone number being 1837, the year the company was founded. The story of Tiffany Blue is described on its press website:
"While there is no definitive answer as to why Charles Lewis Tiffany chose this distinctive color, some theorize that it was because of the popularity of turquoise in 19th-century jewelry. Turquoise was a favorite of Victorian brides who gave their attendants a dove-shaped brooch of turquoise as a wedding day memento, which increased the color's popularity."
The company continues to recount its history with the color: "Tiffany Blue® was eventually adopted for all of Tiffany's packaging and branding. True to the founder's vision, the Tiffany Blue Box® is as much an icon of luxury and exclusivity as it was a century ago." It continues to be a company tradition that these blue boxes and any other bags are not to leave a store without the purchase of an item. This maintains the exclusivity and opulence associated with the brand.
What are some advantages of using blue with your brand? Blue helps customers maintain trust in your business and a sense of customer loyalty, trust and dependability. When you use this color with your brand, you are assuring your client base that you are in control. With a blue color, you are emphasizing that you are a reliable, responsible source.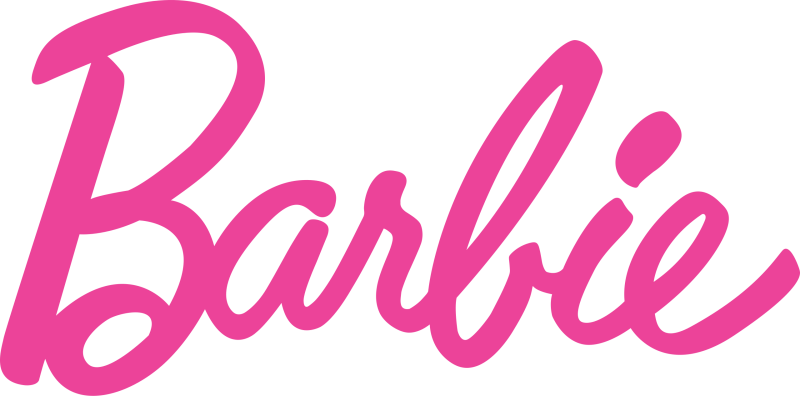 Barbie
The current Barbie brand is well-known amongst a younger population. However, Barbie herself has been a staple in popular culture for over six decades. Ruth Handler created the doll in 1959 after noticing a lack of imaginative toys for little girls at the time. From the Barbie website, she is quoted: "My whole philosophy of Barbie was that, through the doll, the little girl could be anything she wanted to be. Barbie always represented the fact that a woman has choices."
The Barbie brand did not always use a pink color; in fact, it sold the original doll in a black-and-white swimsuit. It wasn't until the 1970's that the Barbie brand became associated with her infamous hot pink color. Its parent company, Mattel, has trademarked the color in over 100 categories and has a Pantone color of 219C.
In the current age, pink is usually a more feminine, "girly" color. Nowadays, it is becoming much more popular for boys and girls to want to play with toys not associated "for boys" or "for girls." The real question is, by keeping everything pink, is Mattel alienating select groups of children?
Why does Barbie continue to use pink as a signature color?
In her sociology thesis at the College of the Holy Cross in Worcester, Massachusetts, Hannah Tulinski examines how Barbie has adapted its brand in response to changes in culture and social meaning. One of Tulinski's final arguments is as follows:
"Today, the main struggle that Mattel faces in ensuring the continued success of the Barbie doll includes her changing audience, which has been influenced by the changing toy and technology industries … The history of Barbie reveals that the secret to her success is premised on Mattel's economic technique: if her identity as a social being is not well received, it can be changed in the best interests of her consumers."
With these ideas put into place, it is interesting that Barbie continues to maintain its pink branding despite wanting to change and branch out in its approach to the general public. They may do this in order to maintain brand recognition. Additionally, they may also want to try and disassociate the color pink as being for a "girly" audience.
What are some advantages to using pink with your brand? Compassion, love and energy associates with the color pink. This gives you a powerful presence in a different sense than the color red, which would be more intense. When you use pink with your branding, you are giving off a sweet, warming, and non-threatening vibe. As a result, this allows your prospective audience to see you in a positive and inviting light.
Conclusion
As you can see from the examples above, color plays a huge role in your branding and how people perceive your company. The colors you choose for your brand identity must always be intentional and convey the message you want. Do you want to evoke a passionate or calming feeling, an energetic or sentimental one? No matter what you choose, take the time to research. Find out whether it is really going to work for your company and its legacy.
If you are feeling stuck in how to shape your brand identity, please don't hesitate to contact our creative team here at Colortech! We are always happy to work with you and to turn your visualization into realization.