Digital printing is the process of transferring a document directly onto a printing substrate by means of a device that accepts text and graphics output. As with other digital processes, information is reduced to binary code, or "digitized," to facilitate its storage and reproduction.
Instead of customizing printing plates for a commercial/offset job, digital printing allows us to print directly onto the paper, cardstock, fabrics, and other substrates.  Digital printing has steadily replaced offset printing in many markets, especially at the consumer and business level, because of its substantially lower production costs and faster turnaround times.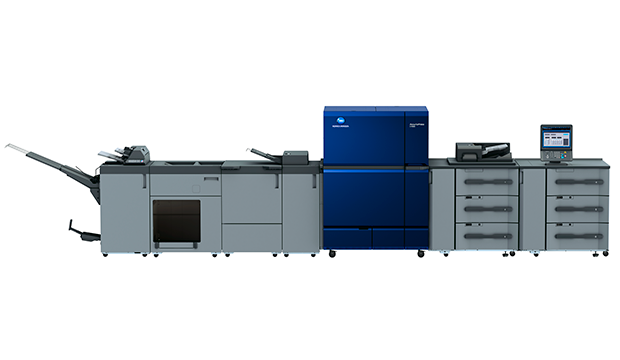 With changing technology and increased digital jobs, we're always looking for ways to be on the cutting- edge with equipment. Our most recent machine can accommodate jobs up to 31.5" x 12.75" and up to runs of 1000 at that size.
Not only does this new machine save money and produce larger pieces, but it is also one of the fastest on the market! This allows us to run more jobs and exceed timelines.
Below, view some further attributes of the machine that serve to benefit you and your printed products.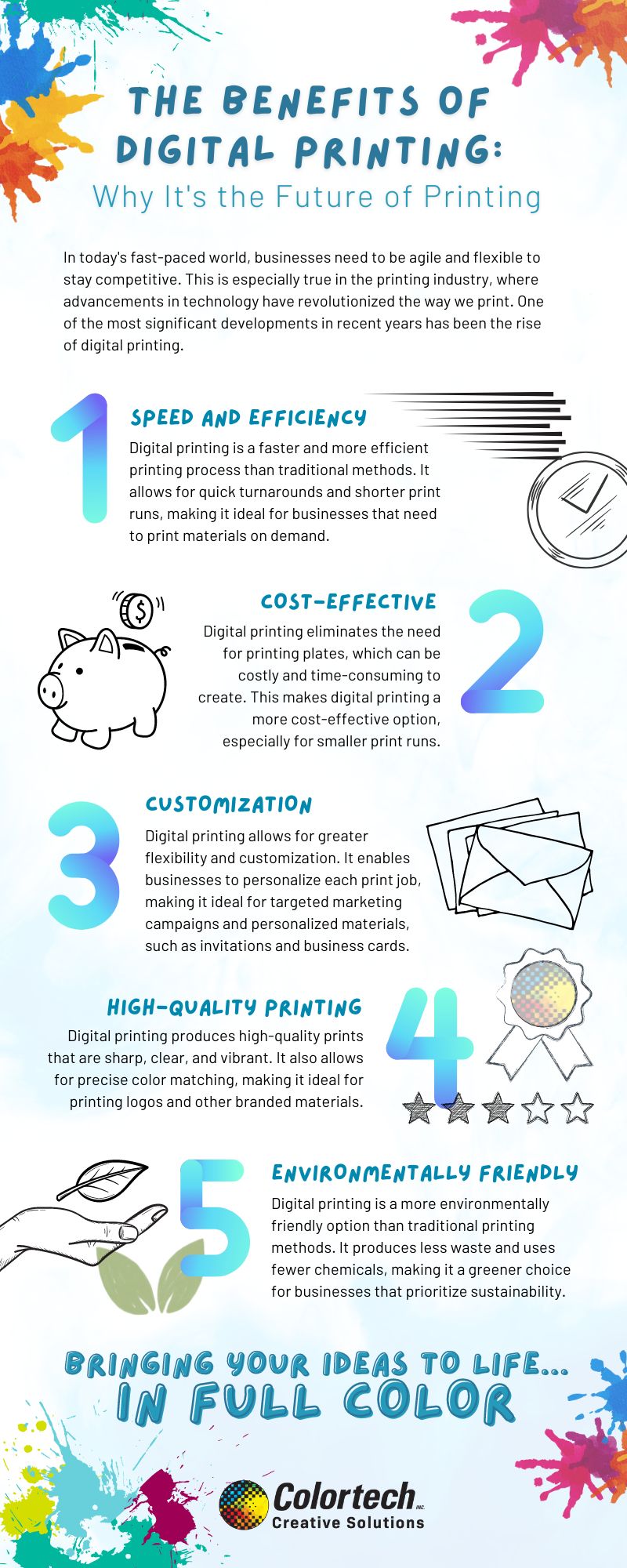 High productivity / high-speed output

Fast turnaround = cost-effective

 Prints up to 31.5" long

At this size, it's cost-effective for runs up to 1000.
Smaller sizes can run up to 2500 usually (such as 8.5x11)

 Binds books on the machine elevating the cost for additional binding on some jobs

Up to 100 sheets for staples
Books up to 30 mm
80 sheets for wire-o binding
Hole punching for 2 and 3 hole
 6 different types of folding available eliminating costs of additional bindery work
Outstanding image quality

Full-color bleed
Automated color and registration adjustment for great full-color, high quality.
Up to 3600 x 2400 dpi
Know confidently your printed piece is going to come out accurately from pages 1 to 1000. Registration is perfectly accurate over the entire print run.
Gery balance adjustment for exact color

 Auto-inspection technology within the printer on top of our quality control team
Don't be afraid to contact us if you need assistance with your printing job!
Email estimating@colortechinc.com to get the best deal for your desired print products.