3 Essentials for Any Successful Trade Show Booth
Whether you're the one representing your company at your booth or doing behind-the-scenes work, trade shows can be stressful for everyone involved. Participating in a trade show is a great way to meet your future clients or catch up with your current partners. However, not all companies will see the same level of success. The key is to create an environment where people will want to stop by and learn more about your products or services.
No matter what size booth or budget you're working with, there are three items that you will see at every booth. All of these essential items are printed marketing materials that will help your company stand out to those attending the event.
Signage is the most important printed marketing material you can get for your trade show booth. What kinds of signage are we talking about? There are a couple of key items we recommend to any of our clients who are attending conferences and trade shows.
The first signage we recommend is to get a standing or retractable banner. These banners are a great way to attract foot traffic. We recommend getting two banners for each event you attend. One is a generic banner you can use all the time, and the second banner can contain an offer or sale specific to the event.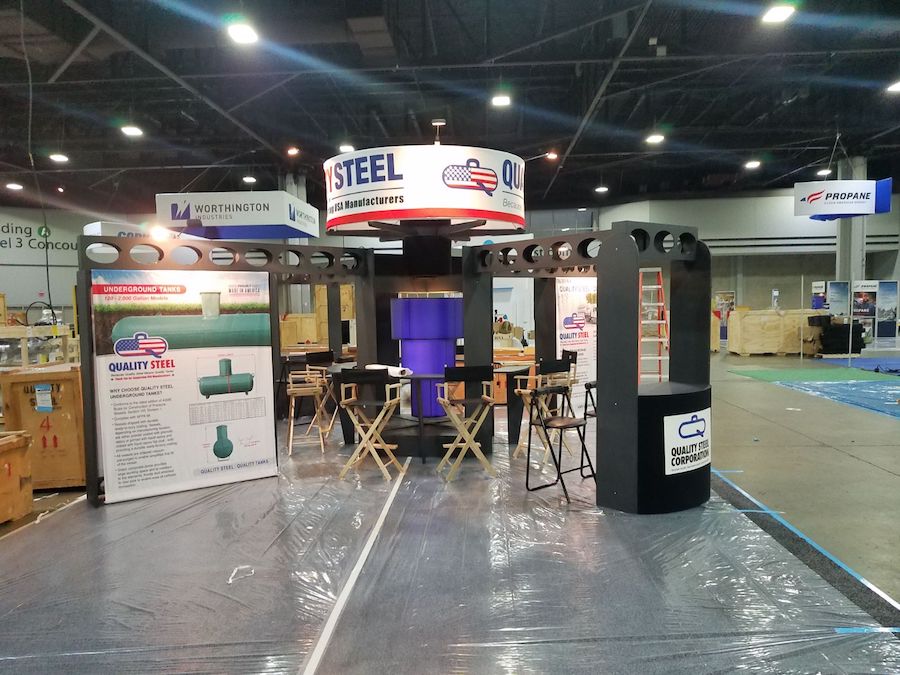 Alongside standing or retractable banners, your trade show booth will need other signage such as traditional posters, flyers, and table runners.
The posters and flyers can be of various sizes to help you gain leads. You can stuff your swag bags with a postcard-sized offer or have a huge 5′ x 7′ wall poster behind your booth.
Using business cards in a trade show is absolutely essential, which is why it is on our list. We can guarantee that business cards are flying around the event you are attending. At trade shows, business cards act almost like currency.
We recommend bringing an excessive amount of cards with you. With everybody bringing business cards with them, it is important to talk with your graphic designer and printer to get make sure your cards stand out.
The details that go onto your card really do count. We recommend adding value to your card, whether that is in the form of a QR code linking to your most popular blog or including a mini schedule of events. If you really want your card to stand out from the rest, ask your printer to use a die cut.
Everybody can get business cards and posters printed, but where companies really stand out is with their swag. Everybody loves free stuff, and people attending trade shows try to collect as much as they possibly can. The key to making sure your swag works in conjunction with your other marketing efforts is to give away useful items. We can work with you to create your promotional items!
However, swag to give out can get awfully expensive. Most small businesses don't have the resources to give out iPads to people who fill out a form. For every client who attends a trade show and doesn't know what to give out, we almost always say pens, stickers, and labels.
If you can only afford to give out one of these items, we recommend pens. According to a 2016 study by Advertising Speciality Institute, 50% of U.S. consumers own promotional writing instruments. We would be willing to bet that on your work desk, you have at least one pen from a company.
The reason we recommend both stickers and labels is that they are both versatile. We often print labels for our clients going to trade shows so they can wrap water bottles or food with their company logo. We think this is a genius way to get the most out of printed marketing swag.